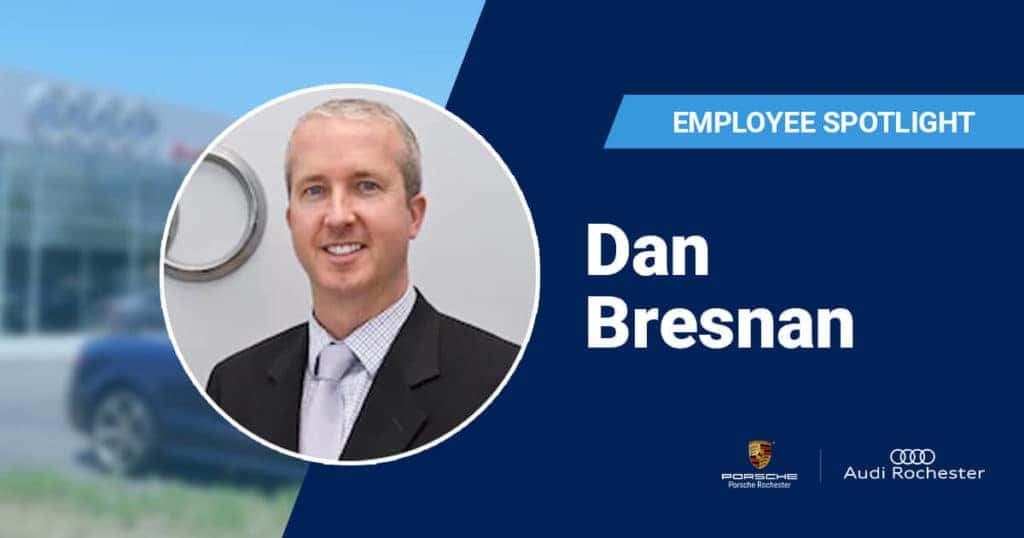 When Dan Bresnan first joined the automotive industry 26 years ago, it wasn't all sunshine and butterflies and rainbows.
Quite the opposite, actually.
Dan left a successful career in retail management to work in sales for an automotive dealership. The experience – his first time working in the car world – was challenging at first.
"Oh, it was absolutely horrible at first when I started in the car industry," he said. "I had an awesome boss but the sales process was so, so regimented and intimidating. If I made one small mistake, it was game over. I literally went home every night very frustrated and said, 'I made the biggest mistake.'"
Still, something inside him urged him to stay.
"I've always felt this internal compass, like I've been drawn to something or someone, or a life choice," Dan explained. "I felt like I was meant to be there. I wasn't going to let someone or something stop me. I had to figure out a way to change my habits and make it work."
So he stayed. He made it work. Then in 2011, he crossed paths with Garber when the company acquired the dealership where he worked.
Now, Dan's experience is the opposite from his early automotive days. As a sales associate at Garber-owned Audi Rochester in Rochester, New York, he's a fish in water.
In fact, he's getting along just swimmingly.
Planting Seeds of Purpose
Dan's love for cars showed itself early.
"I remember my mom telling me that as young as 2 or 3 years old, I could tell what brand the cars were on the road," he said. "My mom had a Volkswagen Karmann Ghia. I remember rolling around in the back and saying, 'Oh there's a Ford; there's a Lincoln.'"
His love for cars deepened as Dan got older.
"I subscribed to all the car magazines as a teen," he said. "My best friend's dad bought a new Mercedes in 1986, and I remember the day he and his dad pulled in the driveway to take it for a ride. I was smitten."
Not only did Dan love cars, but he was introduced to the concept of sales at a young age. His father worked in aeronautical sales.
"My dad was an awesome mentor, not only to me, but to other people," Dan said. "One of his colleagues, Steve, would come over and I would purposefully put myself within earshot of them and I'd hear them strategizing and asking themselves, 'How do we make this competitive? How do we stand out?' My dad was a brilliant businessman, and I learned so many things from him on how to treat people."
When it was time to go to college, Dan focused his studies on communications and marketing. Like his father, he was interested in the world of sales.
"I definitely liked the idea of sales and how you could take your business where you want to take it," he said. "I liked that idea of being in control of your own destiny. When I was in college, I took a summer job selling books door to door. It was the hardest, most miserable job, but it built my character and how to face rejection."
The bulk of Dan's early career centered on his role as a store planner for a national retailer. Along with sales, he learned he had a love for people management.
Job relocation – and the suggestion of friends – is what inspired him to look into the car industry.
"My friends said, 'Dan, you're so into cars and so good with people, why don't you sell cars?'" he said. "So I interviewed and they offered me the job the next day."
After his initial rocky start, Dan got more comfortable selling. Suddenly, he didn't see his industry transition as a mistake. Instead, he saw it as an opportunity to create a great career.
The Transition
When Garber acquired the New York dealership in 2011, Dan quickly realized his world of resources had opened up by being a part of the company.
"At first, I was a bit nervous about the transition, but things have worked out very well," he said. "We have a new building. The facilities are very nice and modern. Our work stations are very professional. I like that Garber has the ability to change when needed and we're not stuck doing outdated practices."
The fact that Garber is made up of multiple dealerships across the country allows for a solid support system, he added.
"We can rely on our sister stores to help with transactions for each other and Garber has a really good understanding of the importance of teamwork," he said. "The tone is such that we are not competing against each other; we are helping each other out."
When he faced hardship, his colleagues supported him every step of the way without bitterness or a competitive spirit.
"When my mom passed away or my dad passed away, I had to leave because it was all in California," he said. "I couldn't just come back in a few days, and my colleagues were really amazing and covered for me. They made sales for me. I will always be grateful for that."
He said the support is shown beyond tragedy. It's a daily norm and value.
"We look after each other," he said. "We don't try to sell each other's clients; we accommodate each other. We all get along really well. We have such good teamwork and that's so important. It has been a core value that is emphasized within Garber."
At Garber, you don't have to fear being fired if you aren't 100% perfect all the time, he said.
"Garber gives you room to make decisions on your own…to do what is best for your client to keep them coming back," he said. "When you do make a mistake but you own it and are honest, you are supported. Garber understands we are all humans with many flaws and we are not discriminated against because of it."
Dan's attitude has completely changed since his early days in the industry.
"I am more confident now," he said. "We are given freedom here at Garber. My confidence is the polar opposite of what it was."
Fast Five

First job? I worked for an unbelievably beautiful art deco movie theatre called the Colony Theatre in Shaker Heights, Ohio. As an usher I did everything from scrubbing the bathroom tile, selling tickets, to filling up the popcorn. I kept that job through high school and college. 

Favorite meal? Spaghetti with meat sauce and a salad with Italian dressing

Three words to describe your personality? Entertaining, sincere, forthright 

Bucket list item? To visit the Pyramids of Giza. I've always been a fan of Egyptian culture and art.

Something people would be surprised to know about you? I once flew a plane in Venezuela. It was a DC-3 plane; it held about 25-35 people.