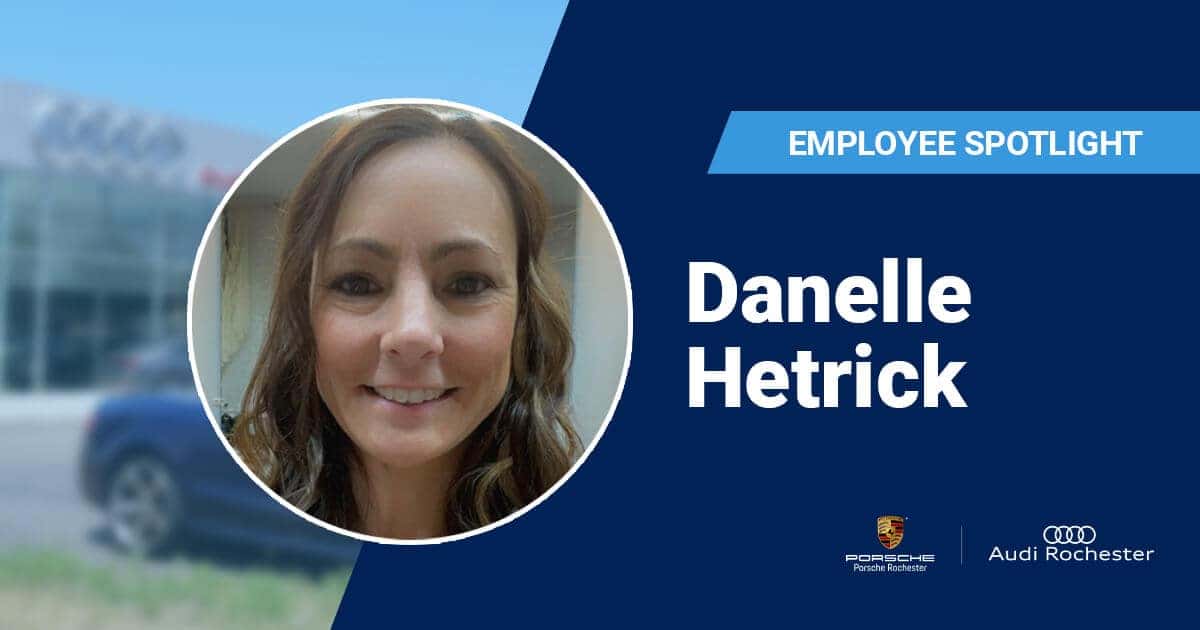 Danelle Hetrick likes cars. She likes to drive fast cars, especially.
But being around cars all day isn't the main reason that Danelle – ASM/Audi Service Advisor at Garber-owned Audi Rochester in Rochester, New York – loves her job.
It's the people.
"I absolutely love the people," she said. "Yeah, I like cars, but the thing that makes me passionate about my job is helping people and helping them solve a problem that seems very challenging and helping them get through a situation that can be stressful. It's the most rewarding thing…the people."
For 21 years, Danelle has worked with Audi vehicles in some capacity. When Garber acquired the New York dealership, the company made a meaningful impact in Danelle's life: both personally, and professionally.
For Danelle, what started as a decision to apply to a job posting has turned into a lifelong career.
'Not My Plan'
The automotive industry was not on Danelle's radar…until it was.
"The automotive industry was definitely not my plan," she said. "I was a very young mom. I was doing landscaping, which I loved…but it was not really a career, so I decided that I should apply for other jobs. They were looking for a greeter at Porsche Audi Mazda, so I applied."
Danelle got an interview. Then she followed up. Three times.
The third time was the charm.
"I was 100% sure I was going to get the job because I drove a really old, cruddy Mazda, so it was fate," she said. "I was wearing a ridiculous pinstripe suit during my interview and it did not look good. But I followed up two days later, then two days after that. On my third phone call, they hired me."
Danelle started as a greeter, but the stint didn't last long – she got promoted. Four months later, she was asked to learn how to become a service advisor for BMW. She was 19 years old.
"I got thrown into the ocean with no life preserver and figured it out," she laughed. "The guy who trained me taught me so much, and I learned like crazy. It was like drinking from a firehose, but I learned that I really liked building relationships with customers."
Danelle was in that position for six months before moving to Porsche Audi Mazda in service.
From that point on, Danelle was hooked. She loved working with people and building relationships with customers – and she was good at it.
"People aren't excited to come in and have their car serviced; they often start off very stressed," she said. "But I have built relationships with people, and they last. I had hip surgery and was out for a bit, and I got cards from clients in the mail and had cards at work when I came back. People care."
Feeling Seen
When Danelle heard Garber was acquiring the dealership she worked for, she felt the way her other colleagues felt: nervous.
All it took was an introduction for the nerves to go away. 
"The first time I ever met Garber folks, we all met at a local hotel in a conference room," she said. "We walked in the room,  and immediately they [Garber leadership] had a calm presence. It felt casual; it wasn't like they were coming in to tell us what to do. That's the thing about Dick Garber's presence: the way he carries himself. All the leaders carry themselves the same way: kind and approachable."
Later on, a health situation in Danelle's life proved to her how much Garber leadership cares about their employees.
"I had hip surgery," Danelle explained. "Ty Mier [Controller at Garber] came in and heard that I had hurt myself. He truly cared about how I was doing and what was going on. When he came back to the dealership a few months later, he immediately stopped and excused himself from a conversation to come up to me and ask how I was doing after the surgery. I had told him I was waiting for insurance approval before I could get treatment."
Hearing that Danelle was having trouble with insurance, Ty didn't just sit back or walk away. 
"By the end of that business day, I had approval from the insurance company," Danelle said. "Ty made a call or did something to get the ball rolling so I could get the treatment. He cared so much and asked me specifically how I was doing. Ty saw me and saw I needed something and immediately helped. If I ever feel I need anything, I always feel comfortable asking anyone in the organization, especially upper management."
Much like Ty, the actions of Kevin Parker, Garber Rochester General Manager, helped reinforce how Garber cares about team members as people, not just as employees.
While together in New York City for a business conference, Kevin overheard Danelle speaking to her husband about their children's upcoming parent/teacher conferences.
"I was venting to my husband that it's so frustrating the school doesn't work around working moms' schedules and I have to leave work early for these things," Danelle explained. "KP [Kevin Parker] was sitting there talking, and I was not being quiet on the phone."
"He leaned over and said, 'I was not intending to listen, but I overheard you talking about parent/teacher conferences. I just want you to know you are always my employee second. You're a mom first. If you need anything for your children or yourself, never hesitate to do what you need. You're always a mom first. Never worry about your job in regards to things for your kids.'"
Danelle was blown away.
"It was so refreshing," she said. "Coming from previous ownership, if our boss found out you were leaving, the first question was, 'When are you going to be back?' It was always an inconvenience. Kevin Parker, our GM, is very clear that's not the case with Garber. Every time things come up for family, it's always family first."
Danelle said she feels seen at Garber – and that makes all the difference.
"It's very rewarding to be seen as a person here," she said. "They know my name and they recognize the job I'm doing. I feel like everyone truly cares about your success and you as a person. It's not just about making money."
Fast Five

First job? My very first job was working at a pizza place and I absolutely loved it. If I ever decided to work nights, I would open up a fancy pizza shop. It is comfort food and everybody is happy when they get pizza.

First car? A Sundance and it only had front brakes

Three things you can't live without? Family, my friends, yoga… I do yoga every single day.

Something people would be surprised to know about you? I sometimes make fancy cakes. I enjoy baking and I enjoy making other people happy, because, like pizza, you aren't unhappy if you are eating a cupcake or cake. I also love to go hiking and find secluded waterfalls.

Best advice you've received? I think of this all the time: Whenever I feel like life is crumbling around me, I think of my little sister at 18 months old singing, 'Don't worry, be happy.'