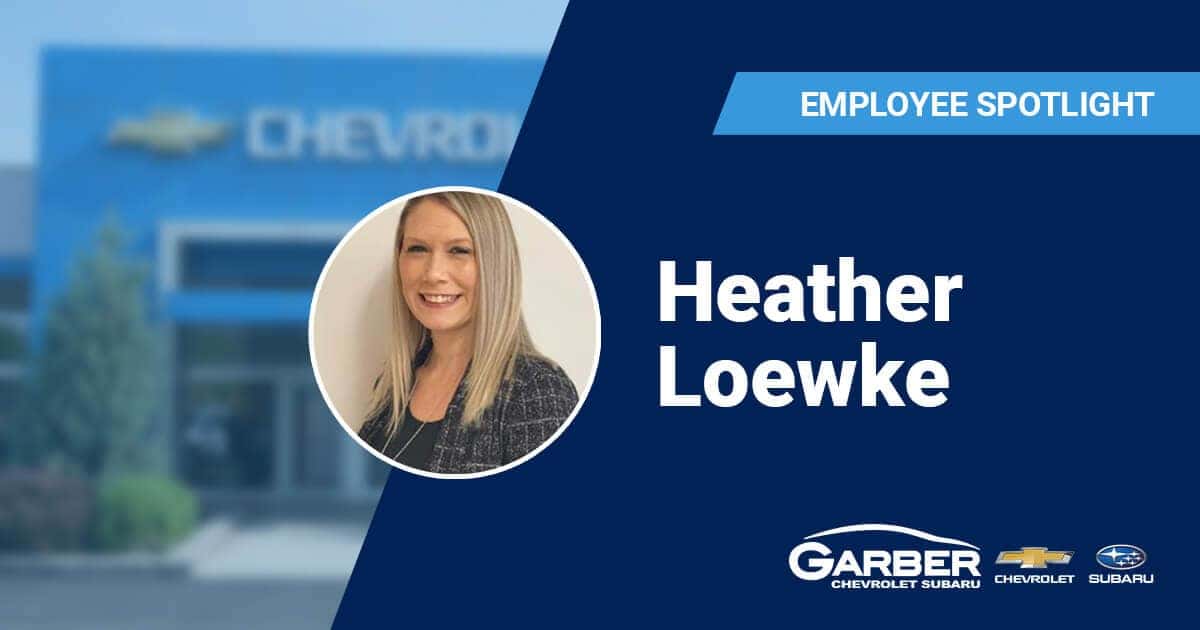 Heather Loewke — office manager at Garber Chevrolet Webster in New York — is one of the newer kids on the block at Garber.
"I got hired by Garber on December 14, 2020, so I'm not quite at a year yet," she said.  "But it's been great."
When it comes to dealership life, she's a seasoned vet. She grew up in the industry.
"My mother had always been in the dealership world," Heather explained. "She worked at a dealership around Rochester when I was young. I remember going there with my dad a lot to visit her. That's how I got into it. It was bred into my blood."
Heather worked for Doyle's dealership for a whopping 21 years before Garber acquired the store last year.
After decades of working for the same owners, change can be intimidating. But things worked out for Heather, and she's been able to grow and learn under both helms of leadership: the previous owners before, and Garber now. 
Starting Young
Let's start at Heather's beginning.
When Heather began working as a cashier at a dealership when she was 17, she didn't see it as a career.
She quickly changed her mind.
"I fell in love with the industry and the job itself," she said. "I always had that hunger to grow and learn more."
After working for the first dealership, Heather made a store switch and began working for a different dealership.
That second store is where Heather planted her career roots. Like her role in the previous dealership, she started as a cashier. But her hunger for growth quickly added more responsibilities to her plate.
"I was constantly asking for more to do," she said. "I would help the service guys where I could and I learned the different positions in the office. I always wanted to learn the back end of things. I started learning accounts receivable and as people left, I expressed an interest in moving up."
Thanks to her go-getter attitude, the dealership owner asked Heather if she could also work as the warranty administrator. She eventually moved up to office manager, knowing the ins and outs of many backend duties of the dealership.
Her plate was full, indeed.
She was used to how things were running. She transformed into a primary point person for HR, Payroll, and more.
But things weren't going to run that way for long. Change was on the horizon for Heather…in a good way.
Great Expectations
When the dealership owners expressed interest in selling the store, Heather wasn't surprised about the sale. But she was nervous about who acquired it.
"We knew that the owners were going to sell," she explained. "But we also knew other dealerships often came in and wiped out their staff, so we were nervous. When the owners did tell us they were going to sell, it was very emotional. Most of the managers had been here 10+ years. We are family. But that's why the owners sold the dealership to Garber. They said Garber had the most family-like feel. They were right."
To help the staff feel more comfortable with the acquisition, they met with company owner and President Dick Garber, CFO/Secretary/Treasurer Pat Hengesbach, and incoming General Manager Joel Williams.
The meeting helped calm Heather's anxiousness about the acquisition.
"After I met them, I said, 'Wow, if their actions are as loud as their words, it will be great,'" she said. "You could tell Mr. Garber genuinely cared about the employees, the customers, the way they spoke and presented themselves. I really liked the dynamic that Mr. Garber and Pat had. They are very personable and focused on employee and customer satisfaction."
Heather recognized quickly that people who work at Garber have similar core characteristics.
"Everyone was so welcoming and so nice," she said. "I remember one of our sales people said, 'Wow, each person at Garber is nicer than the next.' You could feel the acceptance. If they couldn't answer your question, they could redirect you to someone just as nice."
She said that kindness echoed up the ladder.
"I really appreciated the optimism of everyone when we had the ownership transition," she said. "Leadership like Pat and Scott Ellsworth [Garber consultant] checked in on me and came out to help go over things. Sheri Kaufmann, Director of HR, was amazing. The support from the higher ups was everything. Sheri was my biggest saving grace because she was there to answer every question I had."Though it was a change, Heather said it was a blessing that a different dealership didn't take over.
"If another dealership bought us, most of the managers would have been let go," she said. "We all would have been displaced and broken up. But Garber didn't let us go,, and we are all a family."
Taking Off the Hats
Before Garber acquired the dealership, Heather wore many hats in her role.
Too many, actually.
"I used to be the only person that people would come to for questions," Heather explained. "Before Garber, I was doing HR, I was the office manager, I was the go-to person. When I went on vacation before Garber took over, I'd come back with a mess on my desk."
 It wasn't exactly the best feeling in the world.
"It was exhausting to work that way," she admitted. "I have no problem delegating, but you need to have that strong team to support you. With the previous owners, I didn't have that support system. There was a higher tolerance for laziness."
When Garber came in, Heather got the weight lifted off her shoulders.
"Pat made it a point to say I would have support, and he was right," she said. "That's the best part of being a part of this company. I have the support I need here. I can actually take a vacation now. I can take time off and I do not have to worry about a pile of stress on my desk. There are so many other outlets and resources: Garber Management Group helps with HR, with Payroll…there's someone else. I'm not the only one who can take care of it."
With Garber, Heather was able to grow a stellar team that could provide that much-needed support.
"With Garber, I have the freedom now because I have the support," she said. "In the past 10 months, I finally found a strong team that supports me and allows me to be able to do my job to the best of my abilities. I have to attribute that to my team. They've really stepped up."
Getting What You Need
With Garber, Heather not only gets the support she needs – she gets the resources, too.
"It's nice to have supplies we need, the printers we need, things like that," she said. "Before Garber, I had a scanner that would scan just one page at a time. It took forever. Once Garber came on board, we got two monitors, and it doesn't seem like a big deal, but I was like, 'Wow, this makes SUCH a difference.' We got a new copier. A lot of things we did before Garber were so old school, and now we are working like we are actually in 2021. It makes it much easier to do our jobs more efficiently."
She said Garber's family-oriented culture is unique in the automotive world.
"Garber is more family-oriented than other dealerships," she explained. "Other dealerships are way more corporate. You still have that family feel with Garber. It's a fun environment. It's a good environment. I love my job. I tell everyone, 'You spend time at work with people more than your family. It is important that you have good camaraderie with your coworkers.' And at Garber, we do."
Fast Five

First concert? I went to a lot of local shows. Twin A based out of NYC, they used to play a bar here at Milestones and I used to go see them.

First car? 1987 Dodge Aries Station Wagon. My grandfather had Cadillacs his entire life, and the last one he bought was the one I ended up with. There was no AC and no tape deck.

Favorite meal? Steak and french fries

Three words your friends and family would describe you? Independent, stubborn, honest

Item on your bucket list? Go to Hawaii