Drive the Incredible Acura NSX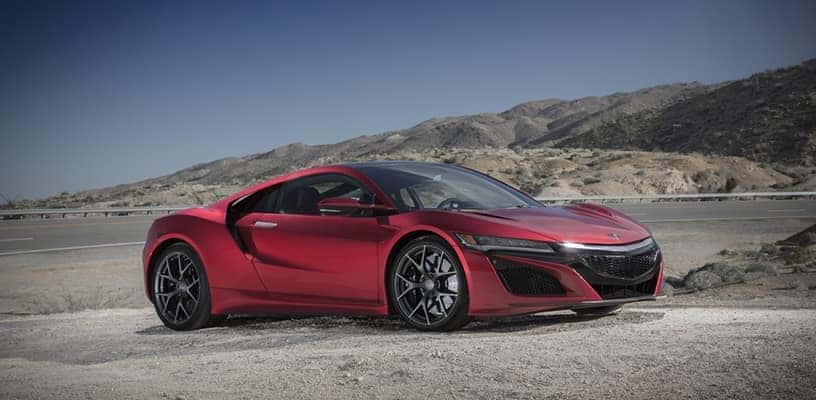 If you want to drive an intelligent supercar with state-of-the-art tech and utterly thrilling power, you're looking for the 2018 Acura NSX. This performance pony delivers stunning good looks that is sure to turn heads, but it moves so quickly, you're just as likely to give onlookers whiplash when they try to check out these sleek lines. The weight-saving construction, the hybrid powertrain, and standard all-wheel drive combine to create a driving experience that's instinctual and inspired. Make an appointment today to test drive this incredible supercar.
The power under the hood of the Acura NSX is unlike anything else you've ever known. It's a 3.5-liter V6 twin-turbo engine connected to three electric motors with Sport Hybrid Super Handling All-Wheel Drive that collectively outputs a beastly 573 horsepower. Plus, with a nine-speed electronically-operated dual-clutch with all the bells and whistles, you'll have precisely-timed shifts that afford you super-fast, silky smooth gear changes that deliver prime power when you need it. All this together produces a zero to 60 miles per hour in 2.7 seconds with a pulse-pounding track top speed of 191 miles per hour. Settle for nothing less than extraordinary every time you drive.
An intimate cabin for a driver and just one passenger, the 2018 NSX is spacious and richly appointed for these two. Supple leather covers the seats, steering wheel, door panels, and dashboard; everything else is soft-touch materials to create an upscale atmosphere. The dynamic drive mode selector has a Quiet mode that drives the car in mostly electric mode so you can enjoy a well-mannered cruise and good conversation. And the trunk even has space for your luggage so you can take this supercar for a super road trip that hugs the curves and each other closer.
Acura made this car a potential daily driver with additional safety gear on the 2018 NSX. Standard safety features include a Multi-Angle Rearview Camera, Hill-Start Assist, Front and Front Side Airbags, Curtain Side Airbags with Rollover Sensors, a driver's knee airbag, and more. The advanced construction of this supercar's frame also inspires confidence in any situation to keep you safe and secure. Fortify your experience today.
This is your invitation to upgrade your driving experience every time you get behind the wheel. The 2018 Acura NSX is the out-of-this-world coupe that you've been looking for. Talk to a team member to schedule your appointment for a test drive today!
Images courtesy of Acura Media
Join the Conversation
Comments
comments